Our company is one of the leading manufacturer & Supplier of Actuated Flush Bottom Ball Valves in Gujarat, India. Our products are designed with bent or an angular bonnet to get clearance in bottom of the machine. These Actuated Flush Bottom Ball Valves are the compact segmented ball type designed to open directly in the Tank, Reactor, for 100% flushing or discharging of material.  Actuated Flush Bottom Ball Valves are pneumatic and can be single acting or double acting with or without accessories as per requirement.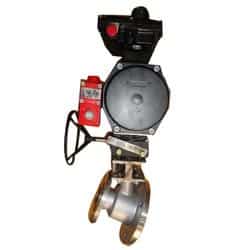 Key Features and Benefits:-
Automate liquid drain operation, minimize the labor.
Automation accessories such as solenoid, limit switches, positioner offer as option. Precise control over important process parameters.
Available with Anti corrosive lining for pharmaceutical and chemical application.
Valves available in the range of 25 NB to 150 NB and in BS, ANSI, DIN, standards.
Manual override provided for safety and emergency.