Our company is amongst well known companies that manufacturer, supplier and exporter of PTFE Lined Flush Bottom Valves – Y Type in India. These valves are highly demanded in the market due to their various attractive attributes such as accurate dimensions, robust construction and corrosion resistance. PTFE Lined Flush Bottom Valves is widely used in flush tanks and is mounted at the bottom of the tanks; we are available in various sizes and other specifications as per the specific requirements of our valued customers.  Our product is checked on various quality procedures in order to maintain the quality according to our client's expectations and necessity. Also our lined flush bottom valve is according to the international quality standards which are set by the international bodies.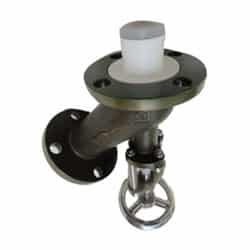 Key Features and Benefits :-
"IVE" flush bottom valves suitable for corrosive as well as food grade application.
FEP/ PFA lining available up to 5mm thick. Tested up to 10 KVA.
ECTFE/ETFE/ Xylan coating available up to 1000 micron. Tested up to 5 KVA.
Available in both designs, Disc Opening in to the tank (vessel opening design)and Disc Lowering (inside valve opening design) in to the valve.
Valves available in the range of 15 NB to 150 NB and in BS, ANSI, DIN, standards.
Operation of flush bottom valve can be automated with pneumatic cylinder and useful accessories.
Outlet discharge angle available in 450C.
Bolted Stuffing Box (Gland), easily adjustable & with Repack able service. Rinsing & Non Rinsing stem with outside ACME thread.