Established in the year 1984, Process Equipment Corporation stands as the prominent manufacturer of flush bottom valves having more than 3 decades of experience. Our company has become an ISO 9001-2008 certified company in the year 2010. We are located in the Vatva industrial estate in Ahmedabad which is considered as the fastest growing industrial area having a double growth rate. We have great infrastructure that adds to our development.
Our infrastructure consists of many departments like manufacturing, marketing, quality control, designing, accounting and dispatch. We have highly skilled workforce who have great experience in the industry for manufacturing the valves. We even provide special training both theoretically and practically to enhance their skills and knowledge. The out-sourcing that we carry out is also supervised under our professionals to give complete assurance of the equipments that we deliver.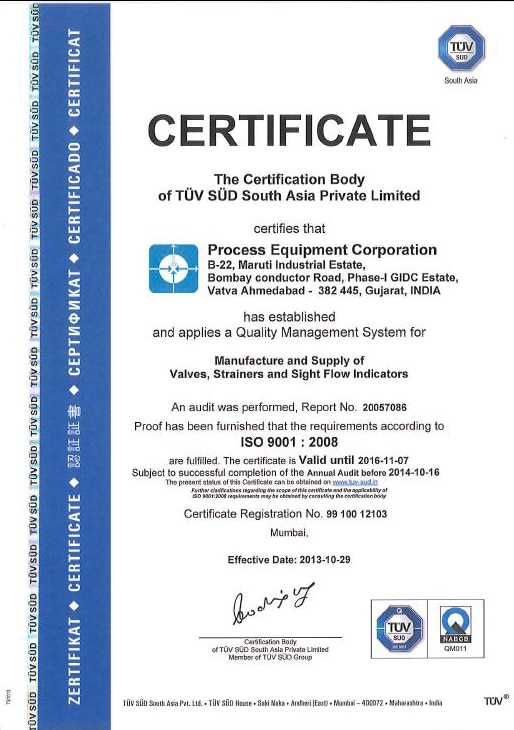 To become the pioneer in the domestic as well as international market as manufacturer, supplier and exporter of flush bottom valves.
Use best quality materials and technology to fabricate the equipments that have long life, are reliable and corrosion resistant, which will in turn help us gain the trust of our clients.
To provide our customers with the best in class valves that are reliable and helps us build a strong relationship with them.
Variation In Flush Bottom Valves:
Flush bottom tank valves
Y type flush bottom valves
Ram type flush bottom valves
Jacketed flush bottom valves
Pneumatic flush bottom valves
Flush bottom ball valves
Industrial valves (knife, butterfly, flap, non-return)
Industrial strainers (Basket, Duplex, Y strainers)
Indicators (Sight flow, Double window slight flow, Rotary type sight flow)
Feeders (Airlock, Rotary airlock)
Level Gauges (tube type, liquid level, pad type)
Strainer elements
We have always worked to implementing the latest technology in our company to make the best flush bottom valves that can withstand pressure and change in temperature. We realize that each valve that is produced has to be accurately designed to avoid any problem in functioning. Our company has a wide infrastructure and the talented workforce acts as a backbone of our company and enables us to provide the clients with the valves that exactly match their needs.