Manufacturer, Supplier and Exporter of Non Return Valves, Types of Non Return Valves, Non Return Valves Price in India, USA, UAE, South-Korea, Qatar, Kenya, Iraq, Iran
As the name signifies non return valves are special type of valves that allow the flow in only one direction. It is fitted in the pipes to ensure that the flow is in the correct direction and does not come back in opposite direction. These valves are used in pumping, water and waste water application. Non return valves work automatically hence the person or any device does not control them. There are different type of non return valves like spring-loaded, swing type and clapper type valve. These valves are most commonly used in discharge valves of reciprocating pumps. They are used in various industries such as chemical, pharmaceuticals, dyes, oil, fertilizers, pumps, etc.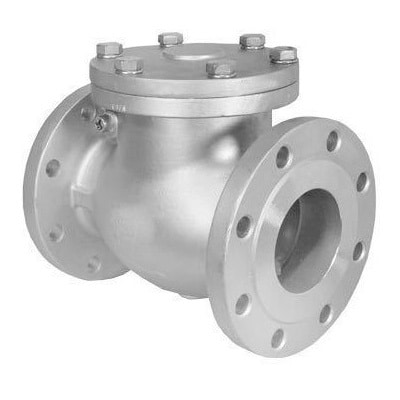 PEC is the leading manufacturer, supplier and exporter of wide range of non return valve which is a mechanical device for single direction flow of fluid or gas. We offer them in various shape, size and specifications that suit the industry application where it is to be used. Despite being in different shape and size the functioning and efficiency is not affected. Each model is designed and manufactured with perfection under the supervision and guidance of the skilled and experienced professionals. The non return valves are manufactured according to the ASME, API etc standards. The wide assortment of these non return valves is presented at the most cost effective and affordable price range.
Key Features Of Non Return Valves
Specification Of Swing Check Valve
Application
Unidirectional Flow
Features/Benefits

Bolted Cover
Swing type flap
Renewable & Integral seat rings
Resilient, integral & stallited seat
Low pressure drop, suitable for vacuum application
High flow passage

ANSI class / Rating
150#, 300#
Design Standard
BS 1868, API 6D
Testing Standard
API 598, ISO 5208
Size
50-300 mm NB
M.O.C
Body : WCB, CF8, CF8M, Hast Alloy, Super Duplex, Alloy 20 , LCB etc
Trim : 13 % Cr, Stellite etc
Ends
Flanged end, Butt weld, Socket weld
Operation
–