Manufacturer & Suppliers of High Quality of Knife Edge Gate Valves, Gate Valves, Forged Steel Gate Valves, Cast Steel Gate Valves in Delhi, Maharashtra, Madhya-Pradesh, Kolkata, Rajasthan, Chennai and Hyderabad
Knife gate valves are compact version of gate valves used to obstruct the flow of thick fluids and gases. The edges of these knife gate valves are very sharp and designed to cut through the tough pulp produced in industries. The main benefit of these knife gates valves is that they can easily actuate and handle heavy liquids. They are used in various market industries and application like waste water treatment plant, oil and gas mining and powder industries. The life span of these valves is high and is preferred mostly in stopping and controlling the flow of abrasive slurries.
We have an excellent range of knife gate valves available at our industry offered at the most competitive price range. As manufacturer, we provide a number of dimensions to handle the thick lowing oils, grease, slurry, etc. easily and smoothly. The working of these knife gate valves in very simple. We offer both unidirectional and bidirectional knife edge gate valves manufacturer in different size manufactured using the highest grade raw materials. We are the leading supplier and exporter of knife gate valves available in different materials that suit the application of our client. The price is kept at the best range compared to other dealer in the market.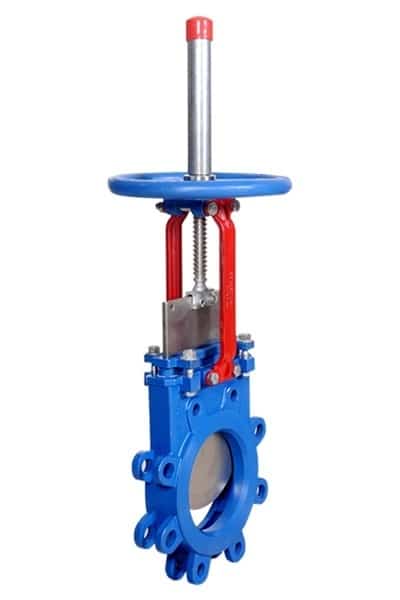 Specification Of Knife Edge Gate Valves
Application
Isolation
Features/Benefits

Applicable for pulp, slurries, powder such as coal, ash, dry and wet powder, pneumatic conveying systems, dust collecting systems and material handling equipments.
Sharp heavy-duty knife edge at the bottom of gate cuts through solid sediments and ensures reliable shut-off
Replaceable seats – Easy maintenance at site. Longer service life.
Low operating torque – Facilitates use of a smaller-size actuators. Lower Initial Investment.

ANSI class / Rating
150#
Design Standard
MSS SP 81
Testing Standard
NA
Size
100-900 mm NB
M.O.C
CS/AISI-304/316/304L/316L
Ends
Wafer type, square and round flange
Operation
Manual, Pneumatic, hydraulic, gear operated, motorized, chain operated